You put your finger on it...
Welcome to Chroma Lighting. Touch the light.
CDE Global Headquarters
New headquarters for Engineering company CDE Global based in Cookstow Co. Tyrone. Designed by Teague & Sally/ARCEN and Brill Design
Belfast Great Light
A unique lantern on Belfast's Maritime Mile, this beacon is constructed from fresnel lenses taken from Tory Island and Mew Island Lighthouses off the coast of Co. Donegal and Co. Down. Enhanced by the use of dimmable iGuzzini iPro projectors.
CDE Global
A landmark office development in Mid-Ulster with a bespoke lighting design
AC Hotel, Belfast City Quays
A new Hotel for the Marriott chain and a unique fixture in Belfast's growing City Quays development, the AC Hotel features iGuzzini System 53 linear recessed lighting and of course the Laser Blade.
Queen's University Bernard Crossland Building
iGuzzini iPro projectors illuminate the coloured glass brise soleil on the front facade of this new facility. Architecture by Kennedy Fitzgerald, building services by Williams & Shaw Consulting Engineers.
Nine Lanyon Place Belfast
This superb lobby is a fitting entrance to this prominent city centre office building
Inniskilling Castle
One of Ireland's most important historical sites, Inniskilling Castle and museum now has a striking floodlighting scheme to reflect it's importance to the town in which it stands. iGuzzini Linealuce and iPro luminaires were used extensively throughout this careful design by Gillespie & Cummings who previously oversaw the Walled City floodlighting project which so successfully illuminated the City of Derry's historic walls.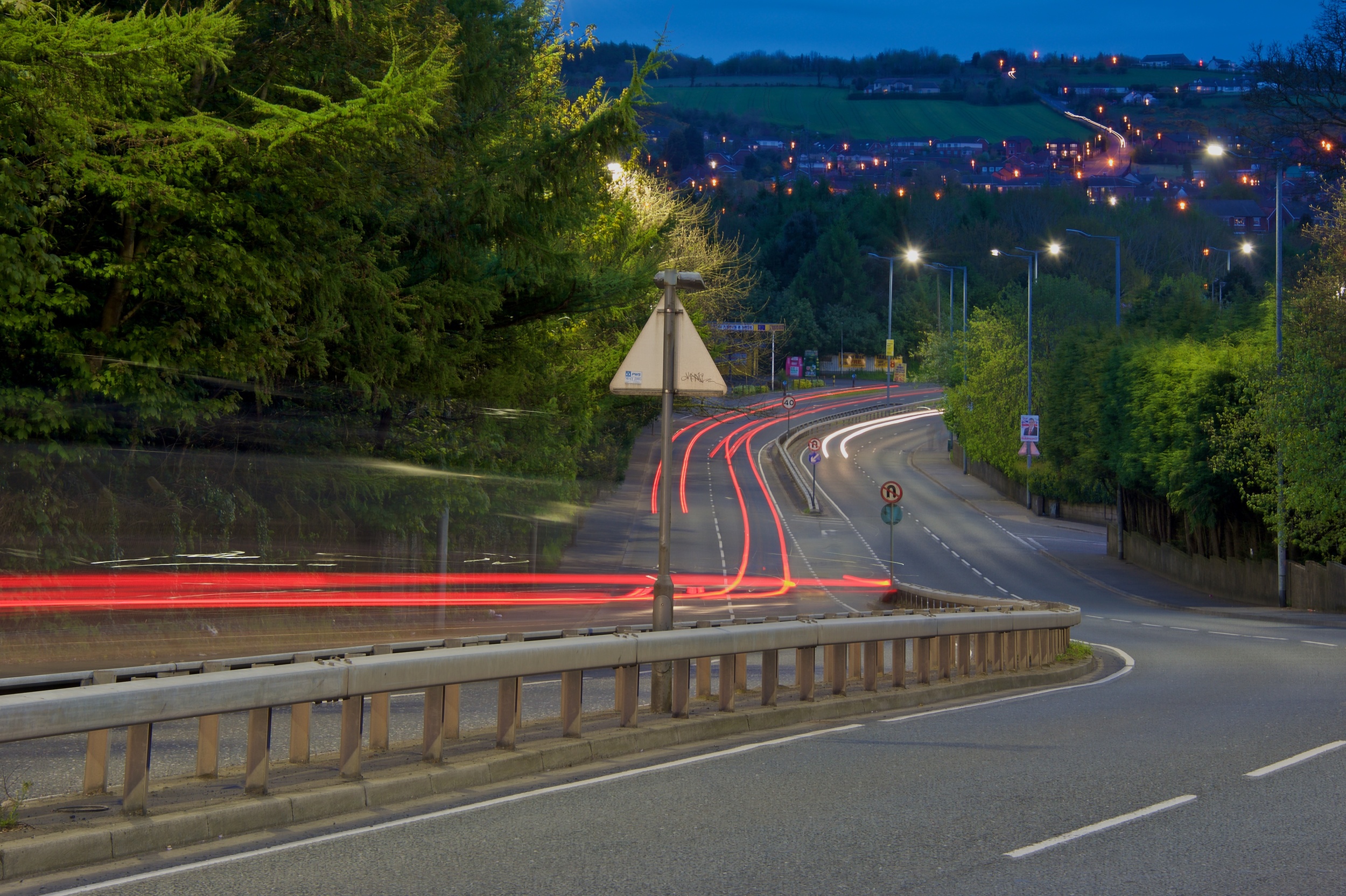 Knock Dual Carriageway, Belfast
The DRD Roads Service chose iGuzzini Wow lanterns to illuminate this busy stretch of Knock Dual Carriageway, an arterial route in South Belfast. The Wow lanterns provide unmatched uniformity and colour rendering, and of course deliver enormous savings in running costs and reduced maintenance.
iGuzzini Palco Micro
The new Palco Micro range from iGuzzini redefines accepted conventions of scale versus performance with projectors that far outstrip expectations
CDE Global
We worked with Teague and Sally Architects and Brill Interior Designers to produce a bespoke lighting design solution for the interior of this superb landmark office building.
Titanic Experience Belfast
This striking building is an icon of Belfast's regeneration, by day and by night thanks to iGuzzini Linealuce uplights bringing out the patterns in the unique aluminium cladding.
Public Art Installation, Lurgan
A sculpture in the centre of the main public plaza in the market town of Lurgan, Co. Armagh, the figures are illuminated by colour changing ground recessed uplights white the 'linen' sheet is illuminated in cool white. The landscape architecture was by Park Hood, Luminaires by iGuzzini.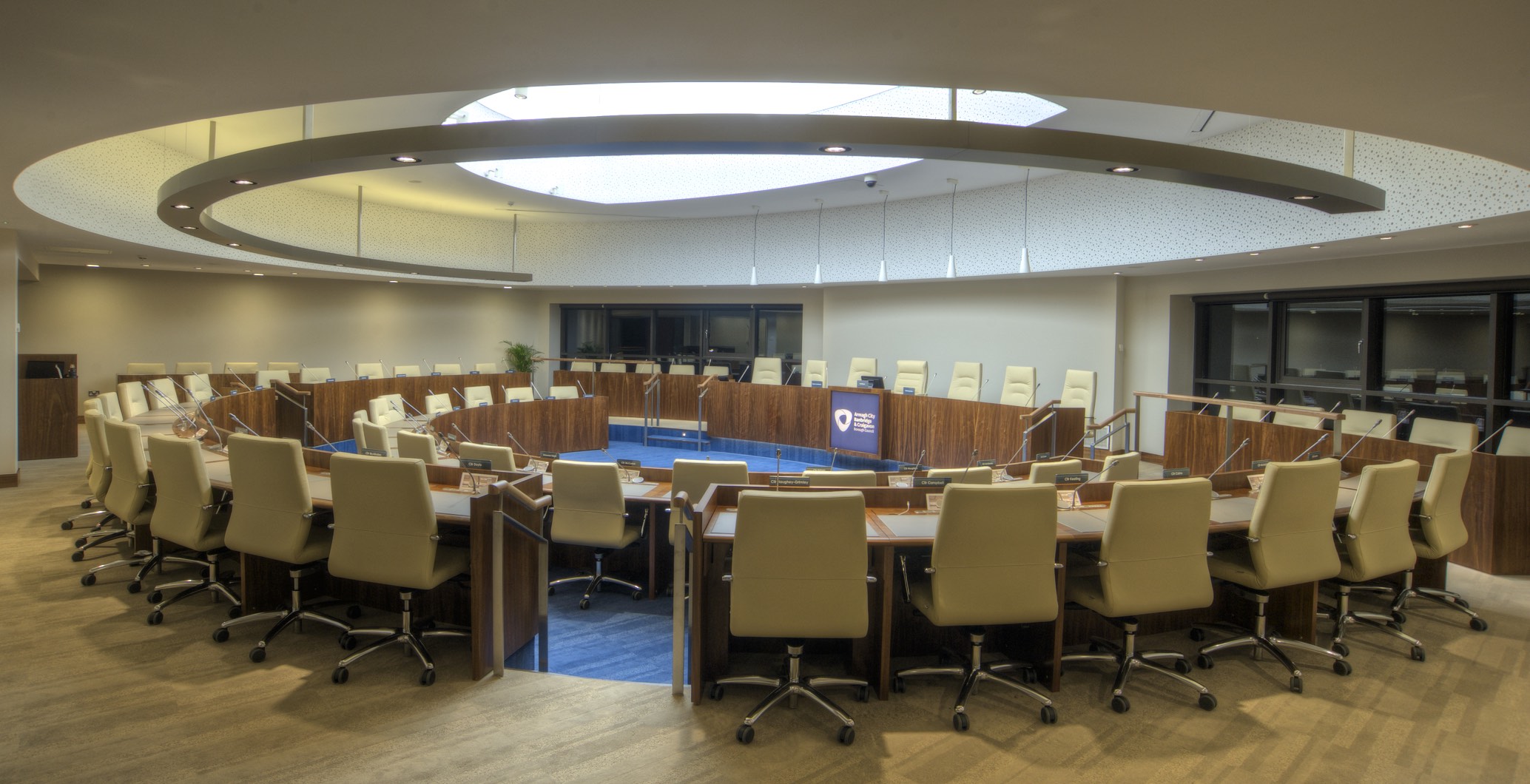 Armagh Banbridge & Craigavon Council Chamber
A Super-council needs a super chamber, and this exciting space designed by Todd Architects and Williams & Shaw Consulting Engineers certainly reflects the status of this newly formed council. The focus of the space is a bespoke suspended arc feature with brushed Anolok cladding, providing focused adjustable downlighting and wide uplighting. Finally, decorative pendants create focal illumination over the Mayor's desk.
Newry SRC
Southern Regional College, Newry has an exciting new technology suite featuring iGuzzini Underscore LED concealed and enclosed in extruded aluminium channels to create bold graphic scenes. Thanks to Troup Bywaters & Anders for these great images
Giant's Causeway World Heritage Site
We were asked by The Society of Light and Lighting to illuminate features of the Giant's Causeway World Heritage Site as part of the celebration of the UNESCO Year of Light
Public Art Installation, Portadown
A sculpture adjacent to a busy traffic interchange in Portadown, Co. Armagh, the figures are illuminated by static white ground recessed uplights white the globe is washed with colour changing LEDs. The landscape architecture was by Park Hood, luminaires by iGuzzini.
Me Ship's Come In!
We brought iGuzzini's Light Experience container to Belfast, and placed it in the bottom of the Titanic Dry dock, where it was visited by more than 100 Architects, Engineers and Designers.
HMS Caroline, Belfast
One of Belfast's longest residents, HMS Caroline is the second oldest serving vessel in the Royal Navy (the first is some scrapyard canoe called HMS Victory). We floodlit the ship and it's surroundings as a backdrop the the Building and Design Awards taking place nearby.
Leisure Centre, Kilkenny
A development of a dramatic design by Patrick McCaul Consulting Engineers, building on several early projects led to this exciting interior featuring FrameWoody luminaires for up/downlighting suspended between the elegant, substantial, Glulam beams.
Falls Swim Centre, Belfast
Falls swim centre uses iGuzzini Light Air and LAMP fluorescent luminaires, along with MiniWoody spots for robust, efficient accent lighting.
Idea Centre, Omagh
This dynamic space was brought to life by iGuzzini and Glamox pendants
Radisson Hotel, Dublin
Artemide Reeds divide the restaurant from the lounge
Bombardier C Series plant
We provided leading edge lighting for this new factory and inspection lighting for the robotic trolleys carrying wings around factory
Church of St Mary, Killybegs
Bespoke pendants designed by the architect, built by craftsmen in Belfast, fitted with the latest LED light engines by Light Logistics & installed in a superb interior in Killybegs
Bengal Brasserie, Belfast
The ceiling of Bengal Brasserie is fitted with over 500 light sources, each one a Swarovski crystal in a bespoke luminaire illuminated by a fibre optic cable from several drivers connected together in the ceiling void. A dramatic and unique project
Chroma Group offices
iGuzzini Front Light LED spots give depth to the 3form Ditto wall panel, while the Kundalini Clover pendants provide useful levels of general illuminance.
Clonar Monastery Belfast
A fantastic interior with amazing mosaic details everywhere you look, it was vital to ensure that it was lit with care and respect for the work that had gone into the art.